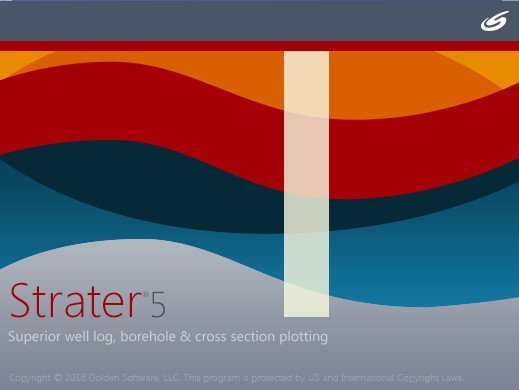 File Size: 84.1 MB
Eliminate subsurface uncertainty. Achieve insight and clarity by transforming raw, subsurface data into understandable well logs, borehole models, and cross sections/profiles. Easily create professional geotechnical reports that clearly communicate important information with Strater.
Analyze Data
Get answers to all your subsurface questions. When displayed in Strater, subterranean data becomes clear and easy to understand. Strater's extensive features allow you to quickly view and analyze areas otherwise unseen and make decisions with confidence.
Communicate Results
Transform data into profit. Easily communicate important information to clients, stakeholders, and coworkers. Regardless of data complexity, Strater's visualization abilities facilitate a complete and thorough understanding of subsurface data.
Create Professional Well Logs and Borehole Models
Discover the depths of your data. Strater transforms subsurface data into understandable well logs and borehole models. Achieve a better understanding of your data so you can make informed decisions, every time.
Strater Log Types
Depth
Line/Symbol
Crossplot
Function
Lithology
Zone Bar
Bar
Percentage
Post
Classed Post
Graphic
Complex Text
Well Construction
Raster
Graphic
Tadpole
Subsurface Data Made Clear
Evaluate and display all aspects of geological data. Easily create cross sections from lithology/zone bar logs, line/symbol logs, or raster logs to better understand the details of your depth data. Maximize your understanding so you can make the best decisions, every time.
Enhance Your Geological Model
Represent your data at its best. Precisely display subsurface data with Strater's numerous customization options. Virtually every aspect of Strater's logs, models, and cross sections are customizable.
Strater Customization Options
Include titles, axes, scale bars, and legends
Apply pre-defined or custom fill patterns based on industry standards
Generate custom fill libraries to be shared with colleagues and reused across multiple projects
Include customized headers and footers
Draw text, polylines, polygons, symbols, and spline polylines
Utilize tools to align, overlay, or distribute logs as needed
Create standardized templates to create consistent reports
Strater Cross Section Customization Options
Add any type of log to an existing cross section
Display logs as deviated or vertical
Display water level(s) in the cross section
Add well headers to display borehole information, as well as distance between well tops or bottoms
Define and customize lithology/stratigraphy layers
Use schemes to quickly apply symbol, fill, and line properties and save them for use across multiple projects
Transform cross sections into 3D fence diagrams with the Voxler integration commands
Hang logs at the proper elevation
Top-Down View
Create top-down maps to view well log and borehole information in the correct geographic context.
Strater Map View Features
Insert map view into both borehole views and cross section views
Post well locations, add boundary information, and include image base maps
Show borehole deviation paths
Easily combine maps from various coordinate systems
Use schemes to quickly apply symbol, fill, and line properties and save them for use across multiple projects
Add labels from well data
Draw text, polylines, polygons, symbols, and spline polylines to create features and annotations
Include and edit axis ticks, labels, and grid lines
Whats New
https://support.goldensoftware.com/hc/en-us/articles/228070428-Strater-Version-History-
HOMEPAGE
http://www.goldensoftware.com/

Download From Rapidgator

https://rapidgator.net/file/a225a5645f8c3da019c53978468aa18f

Download From Nitroflare

https://nitro.download/view/9A4688860C3BDAC